"The Arab-Latino Connection"
Dance & Music in the Arab Diaspora in Latin America
with Tamalyn Dallal
LIVE Sunday, April 2nd 12 PM PDT / 3 PM EDT
+ 30 Days streaming access
Worldwide, the Arab Diaspora spans parts of Southeast Asia, Africa, Europe, North America and Central and South America. Latin America has a particularly large and vibrant Arabic community. People started to arrive in the region as far back as the 1850's building new lives in their new Central and South American homes. The cultural interactions between these Arab immigrants and the local populations have been a rich exchange with profound impact on Middle Eastern dance globally.
Tamalyn Dallal was there to experience this first hand, traveling extensively through Latin American in the 1980's and 1990's. During those years, she lived with and danced for the Arab diaspora communities in Colombia, Venezuela, Brazil, Argentina, Bolivia, Chile, Mexico, El Salvador and Honduras.
Through a unique blend of history, media and storytelling, Tamalyn will share some of the story of the Arab diaspora in Latin America and how it has played an influential part in the belly dance world.
In this talk you will learn:
Where and when Middle Easterners arrived in Latin America

The political and economic reasons for the emigration from Arab countries

Observations of cultural exchanges and influences  between Arab and Latino communities

The cross-pollination of Arab and Latino culture in TV, music and dance.

The emergence of a Middle Eastern dance in Latin America and its ripple effect on the global dance scene
Registration is $25 and includes the live presentation over Zoom and streaming access for 30 days.
About Our Presenter….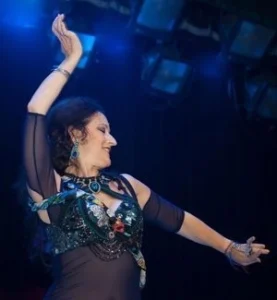 Tamalyn Dallal has performed for stars such as Sean Connery, Michael Jackson and James Brown, the president of El Salvador, Saudi Arabian princes, and the King of Jordan (to name a few).
Directing the Mid Eastern Dance Exchange, a non profit organization, dance school and performing company, from 1990- 2007, she taught and mentored many dancers who became well known throughout the world. She organized the Orientalia International dance festival and produced numerous theatrical productions.
She has performed and/or taught in 44 countries, was one of the original "Bellydance Superstars", has written four books, produced two music CD's of Africa's oldest band, the "Ikhwan Safaa Musical Club of Zanzibar", and filmed ethnological dance documentaries; Zanzibar Dance, Trance and Devotion, was completed in 2011. Ms. Dallal released "Ethiopia Dances for Joy" in 2013.
Every year, from 2003 until Covid-19 caused her dancing to move online, Tamalyn has traveled to Asia to teach and dance for extended periods. She taught a month long workshop in China every year for ten years and has taught regularly in Japan, Thailand, and Indonesia, as well as periodically in Malaysia, Singapore, Taiwan and South Korea. Over this period of many years, she has mentored and worked closely with Christine Yaven (Indonesia), Wendi Weng (China/NY), Estelle Shao (China), Sakina (China), Leila Hiromi (Japan), Ayako Date (Japan), and more.
She now lives in New Orleans, Louisiana, where she teaches classes on Zoom and will teach live classes as conditions permit.
Tamalyn's latest endeavor is the children's book, "The Bellydancing Kitties of Constantinople," which was released in April, 2019. She is in the process of writing a script for an animated film entitled "The Purrfect Pasha."