Belly Dance Spring Cleaning – Week 1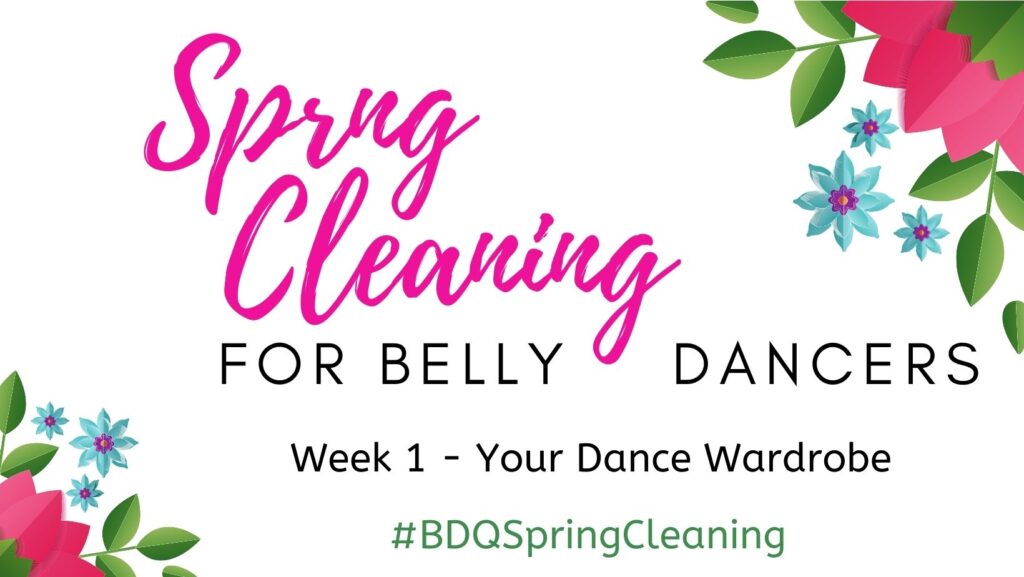 Welcome to Spring Cleaning for Belly Dancers! Over the next 5 weeks, we'll be "freshening up" our dance life together.
Each week we'll focus on a different area with a short list of tasks to tidy up and refresh your dance wardrobe, makeup, jewelry, accessories and even your digital dance life. Think of it as KonMari meets bellydance!
Take it one step at a time – you don't have to do everything at once! If you can block out 30-60 minutes 2 or 3 times this week, you can make more progress than you think!
This week is our first of two weeks covering a big piece of our belly dance-related belongings – our precious costumes! This week will get us set up for some other costume tasks later in the program. Let's dig in!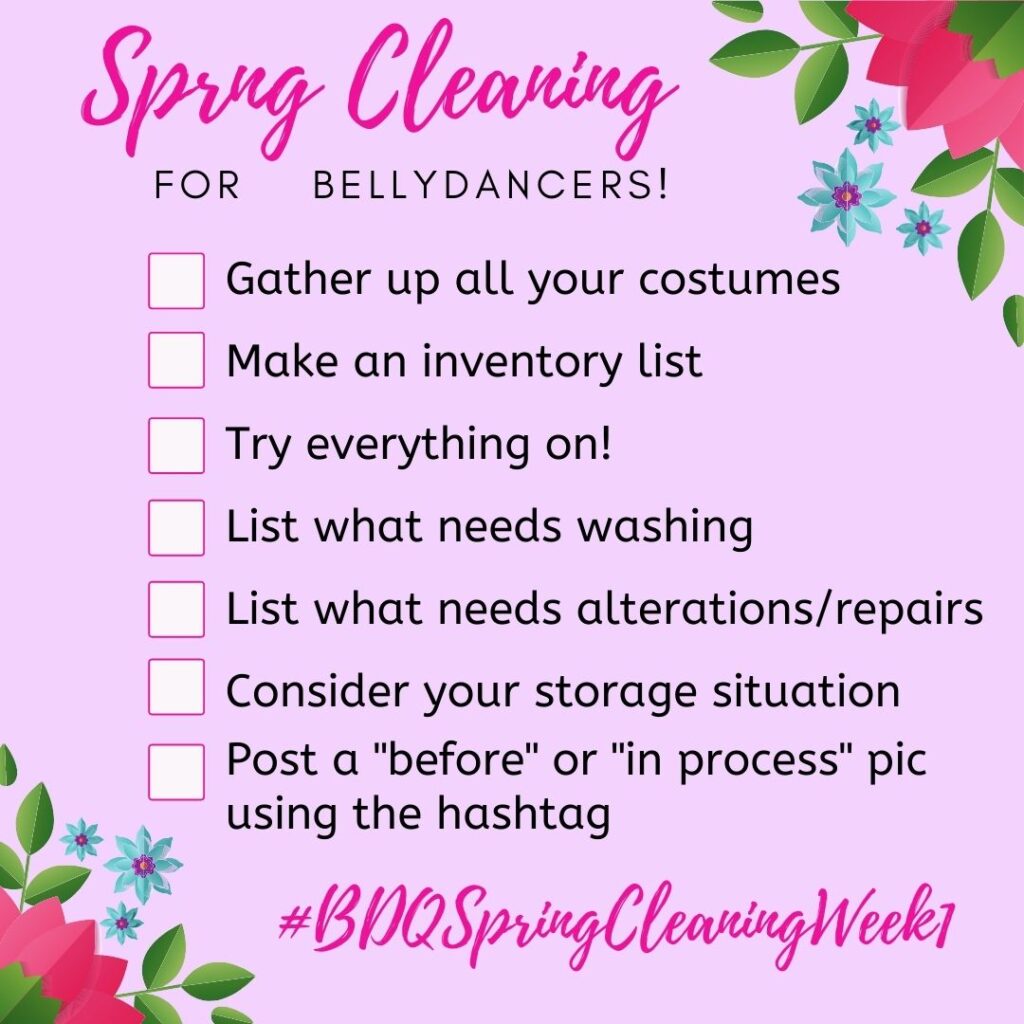 Gather up all your belly dance costumes!
Yes, we really mean all of the them! From your closet, storage boxes, gig bags, mending baskets, yes even those "unfinished projects"… we see you! Did you loan something out? Make arrangements to get it back.
Inventory your belly dance costumes
Now that you have everything together, we're going to make some lists. You can use sheets of paper, a spreadsheet, note cards or whatever works for you. You'll divide your wardrobe into a few categories that make sense for what you have. For example:
Bra & belt sets
Full bedlah sets (the kind with decorated skirts instead of belts ,attached belts or dresses)
Skirts
Pants, or harem pants
Miscellaneous (or any other category that makes sense for your wardrobe)
Put your veils, wings and other prop-type pieces aside for now. We'll deal with them another week! Remember, we're just making a list right now.
Try all your belly dance costume pieces on
Working one category at a time, take your pile and your inventory list to a space with good lighting and ideally, a full length mirror. Try one each piece, make notes next to the item.
Does it fit?
Does it need washing?
Does it need some repair or alterations to be wearable?
Do you even like it anymore??
Just make notes – don't stress out!
List which pieces needs washing
Once you've gone through all your pieces, review your lists and make another list of just the things that need a bath. Look at your calendar and set a realistic date to do your belly dance laundry! Gather up the pieces to be laundered and set them aside till washing day.
List what needs alterations or repairs
Now we're making a new list – maybe two. List which items need repairs or alterations to be stage-ready. Include what needs to be done, or the problem with it if you don't know what the solution is. For example, the belt gaps in the back. or rusty strap hooks. Solve it later, just make a note. If something needs both alterations and washing, put it in the washing pile first.
Consider your belly dance costume storage situation
How is your current belly dance costume storage working out? Do you have enough room for all your things? Are they organized and easy to get to? Are your costumes stored in a way that gives them air circulation and prevents snags or bead tangles?
What would you like to improve? Make some notes, then check into the Glitter Lounge where we'll be sharing and discussing storage solutions!
Post a pic on Instagram for a chance to win this week's prize!
We're in this together! No shame, just progress 🙂
Post a pic or video of your "before" costume situation or you working on this week's tasks. Tell us what you're up to and how your Spring Cleaning is going. You just might win this week's prize!
To be entered to win, be sure to:
Follow @MahinBellydance on Instagram
Use the hashtag #BDQSpringCleaningWeek1 in your feed post with your pic or video to your feed
Tag me @MahinBellydance in your post
Check stories for @MahinBellydance on Wednesdays for a checklist that you can share in your stories that will get you an extra prize entry!!
Happy Spring Cleaning! Get week 2 sent straight to your email!